Order from small stores, made efficient and simple.
❗Disclaimer❗
This was a hypothetical brief, I have no affiliation with
WhatsApp
in any form whatsoever.
---
Project Overview
To design an experience to enable the local stores (Kirana shops, Stationery stores, etc) to sell items to their customers through WhatsApp for businesses, with a primary focus on the customer's end of the experience.
To follow WhatsApp's design ideology and UI pattern
My Role
This was hands on task assignment with hypothetical brief came across on Internet and built through. Understanding the existing Interface and focusing on making a new feature amalgamate in the same.
Chapter 1: Discovery 💡
What is the current Problem?
There is huge demand of the home-delivery of items, be it food or grocery or usable items. Either be it the technology or people's busyness this has become a trend and the adoption of it has come across all types of spaces. Also small businesses have started to adopt and have been listed on the WhatsApp Business and it's feature of Catalog.
What is WhatsApp?
WhatsApp is a messaging app that allows users to send text messages, make voice and video calls, and share media such as photos and videos. It is owned by Facebook. WhatsApp for businesses is a version of the app designed specifically for businesses to communicate with their customers.
WhatsApp Catalog came with it's own advantages and disadvantages. But while focusing on a local seller shops in the localities where all types of a household items are available be it soap, dusting clothes, stationary, food items, edibles etc.
Shopkeeper has to list each item in the catalogue to have a list so that the customer can add to cart and order, making it inefficient and unfeasible. Shop owners face challenges in utilising the catalog feature because they typically have a large and diverse inventory.
Even if they manage to list everything on the app, they still have to continuously add and remove items, which can be a hassle.
Additionally, communicating with customers via text and waiting for their responses during the ordering process can be time-consuming, especially when they have in-store customers to attend to as well.
To streamline the process and save time for both customers and shopkeepers, there is an opportunity for product intervention to make the process more efficient and seamless.
Chapter 2: Define
What is the need?
There are several factors that drive customers to prefer home delivery over visiting a physical store.
For instance, busy schedules and work-from-home arrangements can limit the time available for people to physically visit a store.
Customers who are elderly or differently-abled may have difficulty traveling to a store, making delivery an ideal solution for their needs.
The COVID-19 pandemic has also played a significant role in shaping customers' behaviour and preferences, as many people have become more cautious about leaving their homes and risking exposure to the virus.
Home delivery can help mitigate these concerns and provide a safer alternative for purchasing goods. It provides an efficient and practical solution for customers, helping them to save time, money, and effort while obtaining the products they require.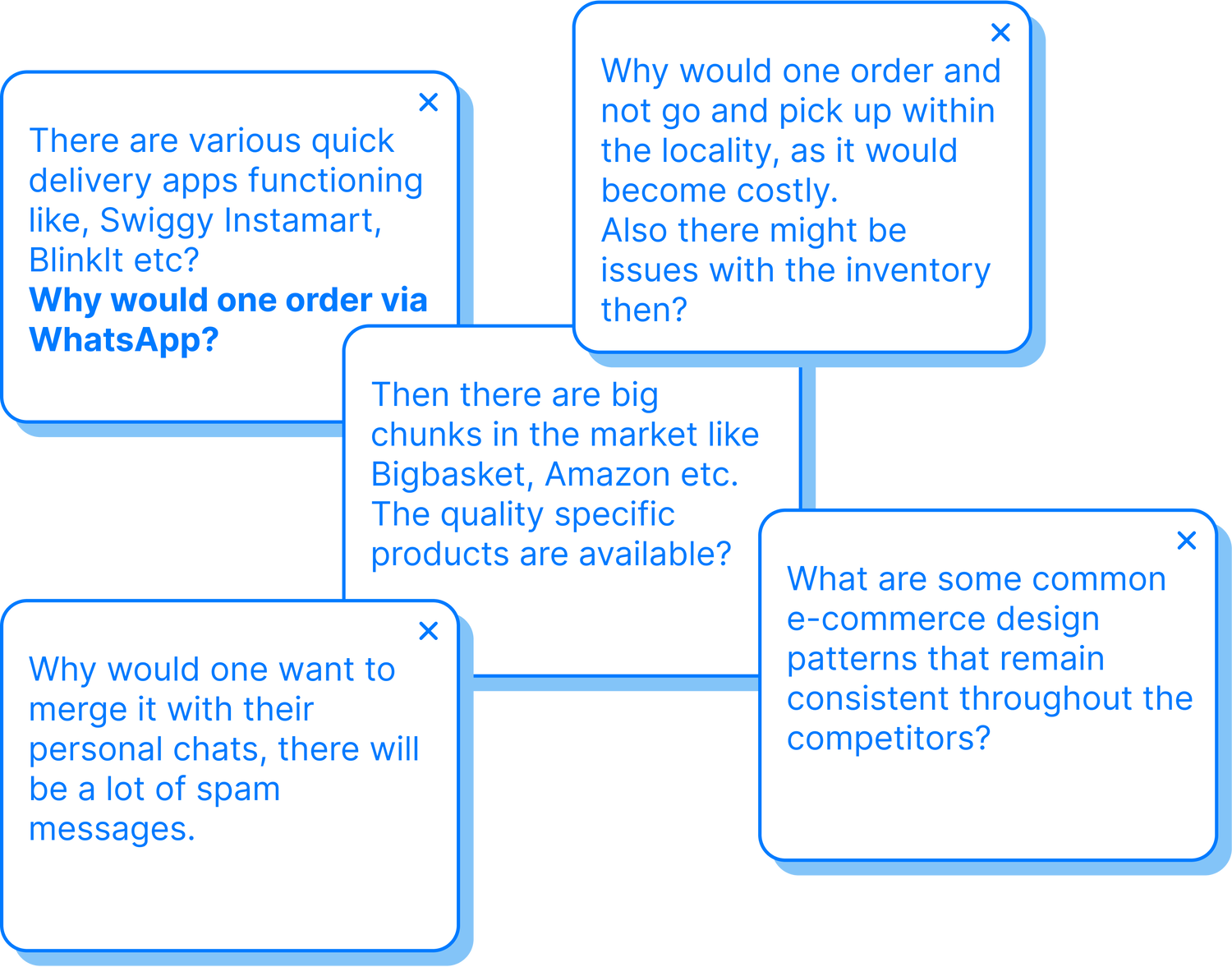 WhatsApp is widely used in the country and the adoption has been quite smooth in all sectors. Which ensures that most people would be hands-on with the chat platform. Also, all this will promote the Local stores and the things can be efficiently be used.
Chapter 3. Use cases
Let's try to minimise this manual communication between customers and shopkeepers. To do that, I listed the information exchange we can expect in a typical conversation between a shopkeeper and a customer.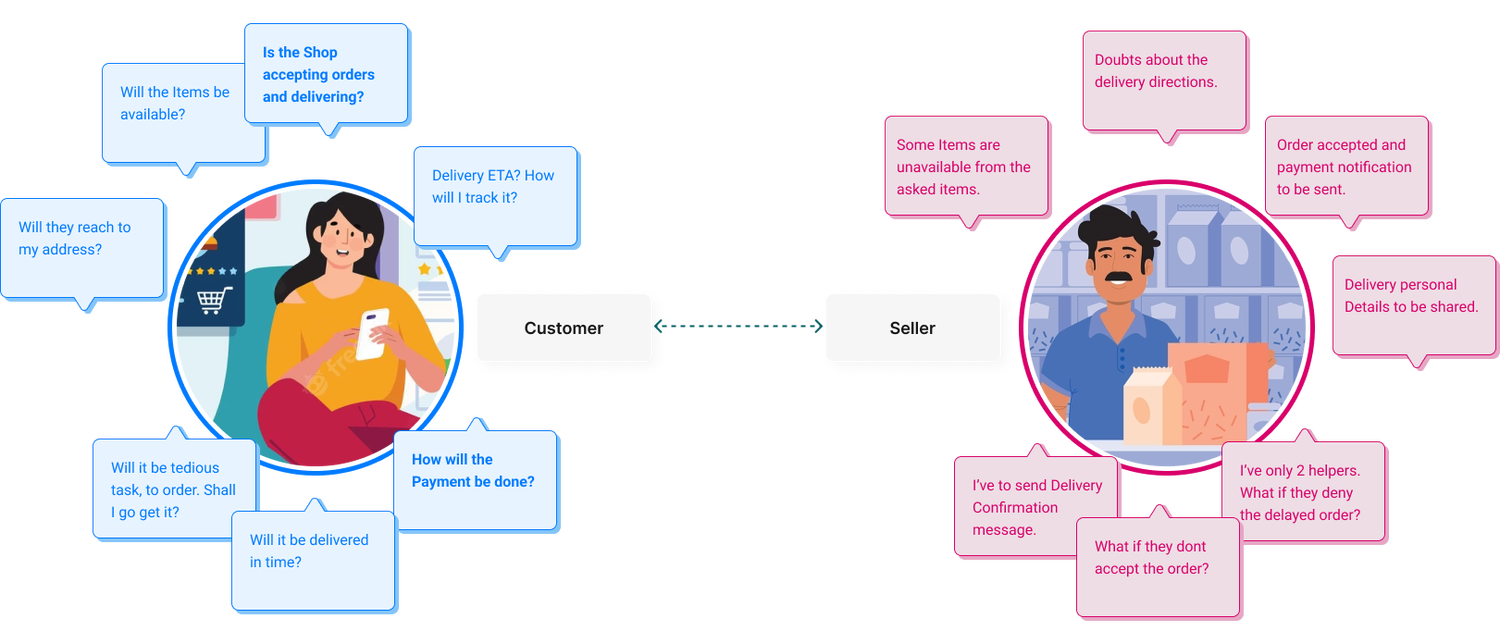 To minimise the to and forth communication between the customer and the seller. I tired to incorporate an conceptual feature in the WhatsApp similar to the features of WhatsApp Poll, Document share, Location as WhatsApp Listicle. Where the user can create lists based on the various local business seller chat accounts. Which can either discovered through adds in status area or can be manually contacted.
So an amalgamation of WhatsApp defined texts and the new feature of WhatsApp Listicle. A shopping list with items from the customer side with all the information together as one unit including the items and deliver address and number and name is shared to the seller. Similarly, all shopkeeper information exist as the Order Status.
A basic user flow of the thing is shown up here:
Customer creates a list in the Listicle, either a new one, reorder from the last or saved list.
Once Seller approved the Order list and confirms for the Payment. Order is proceeded ahead and Live tracking can be.
If some items are unavailable the Modified List is being sent back for confirmation to the Customer.

Chapter 4. Design
An internal feature in the Business chats called WhatsApp Listicle - a Local Business Ordering Platform.
Order from local stores around them.
Save and order items at their own convenience.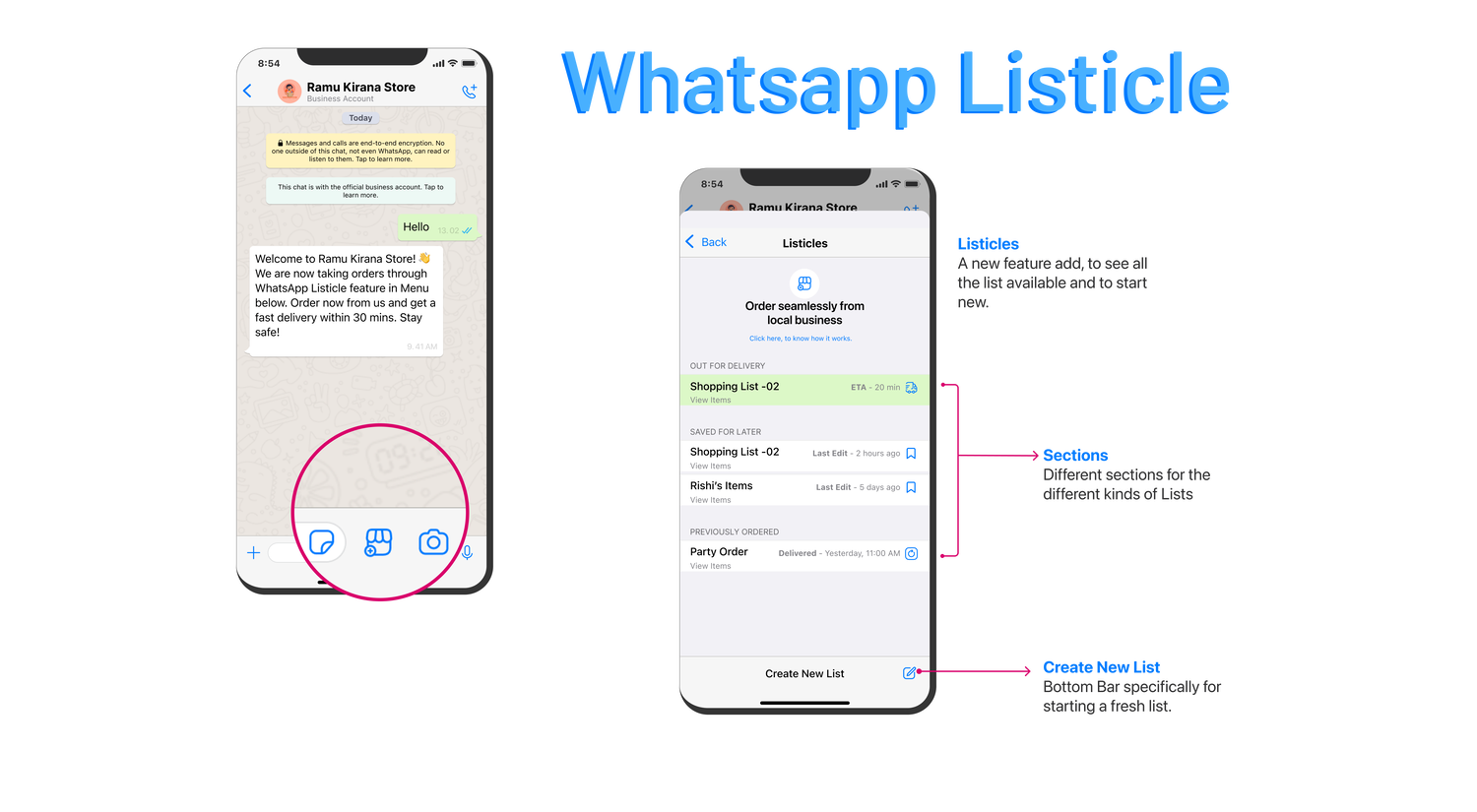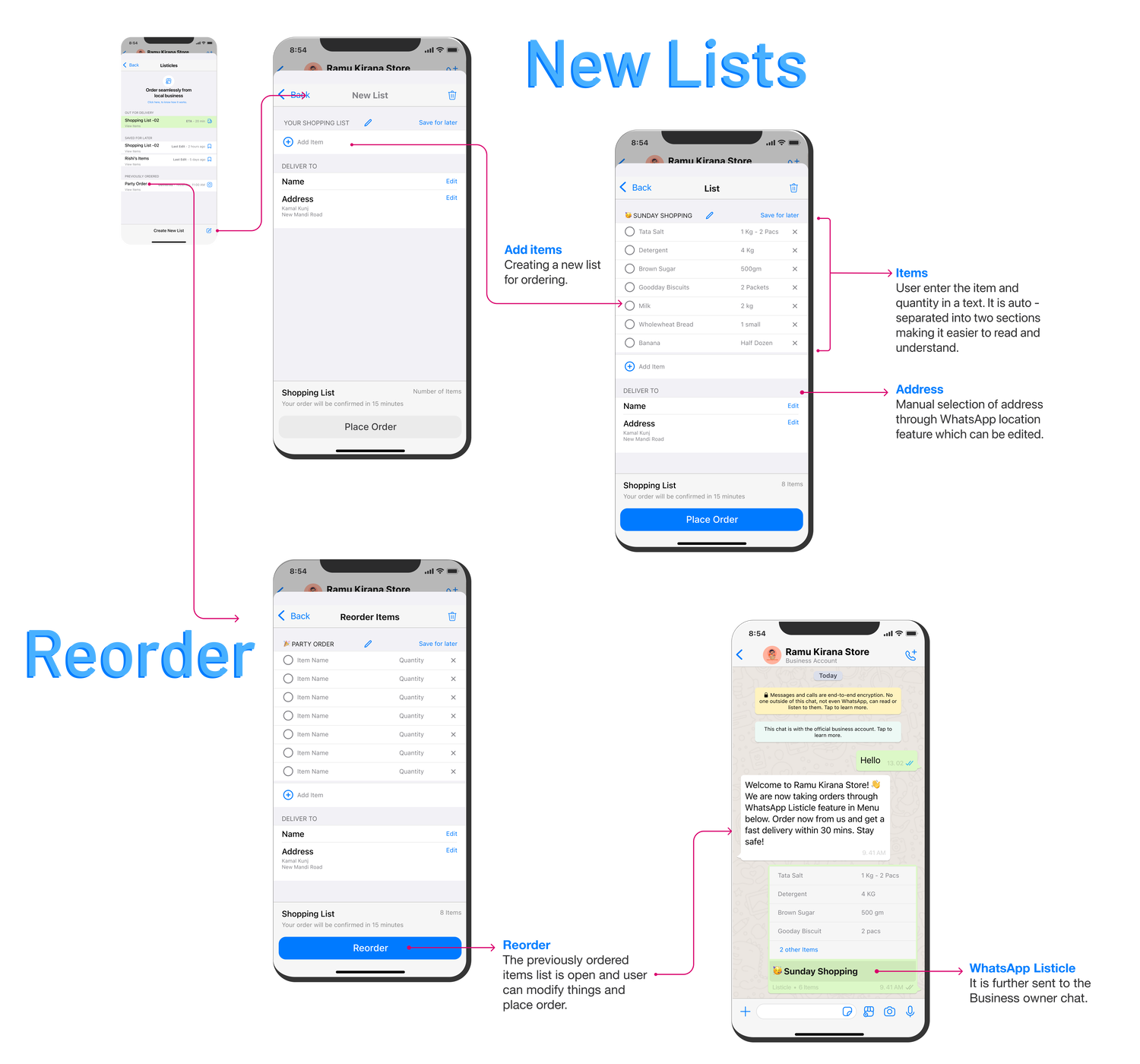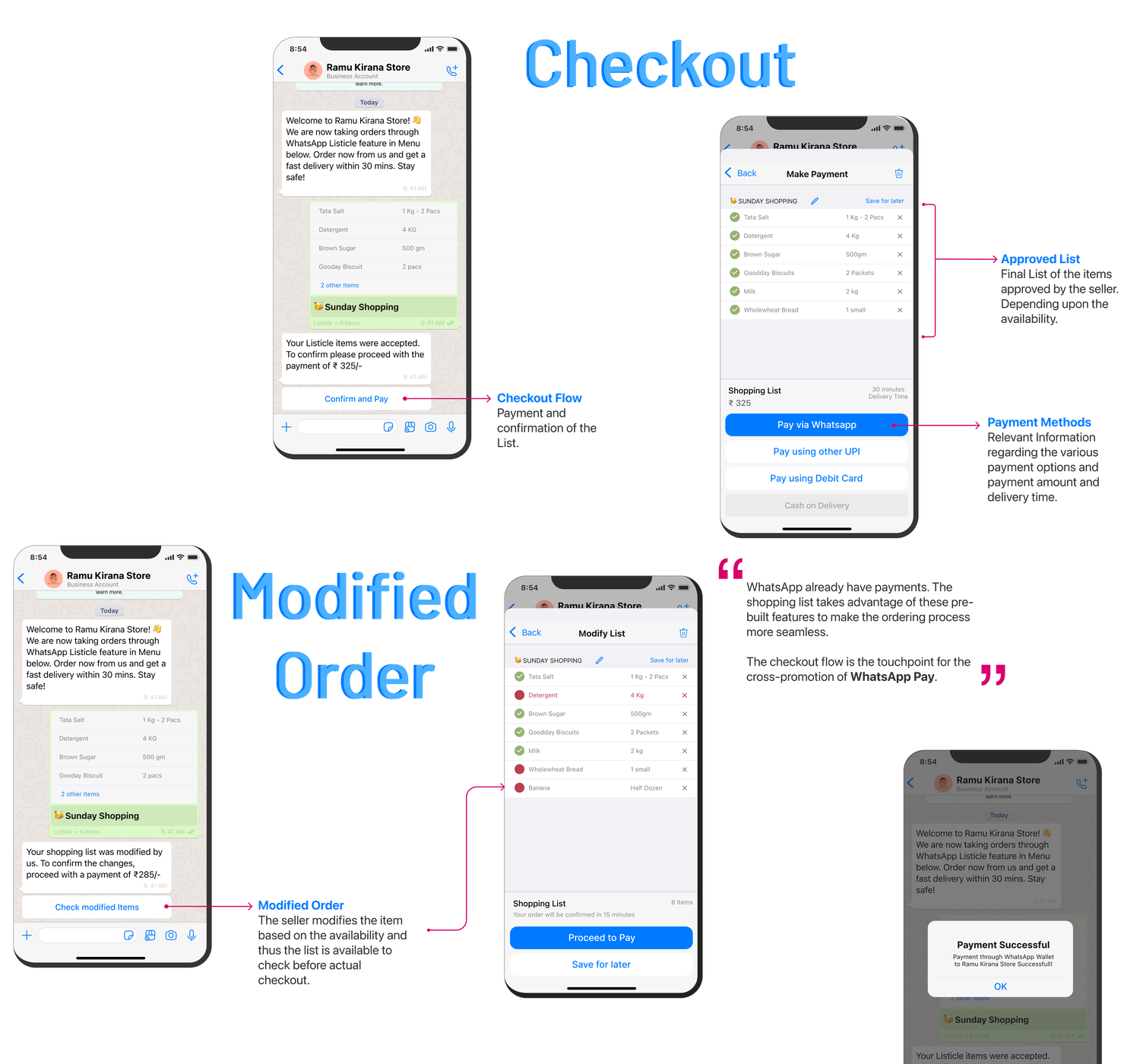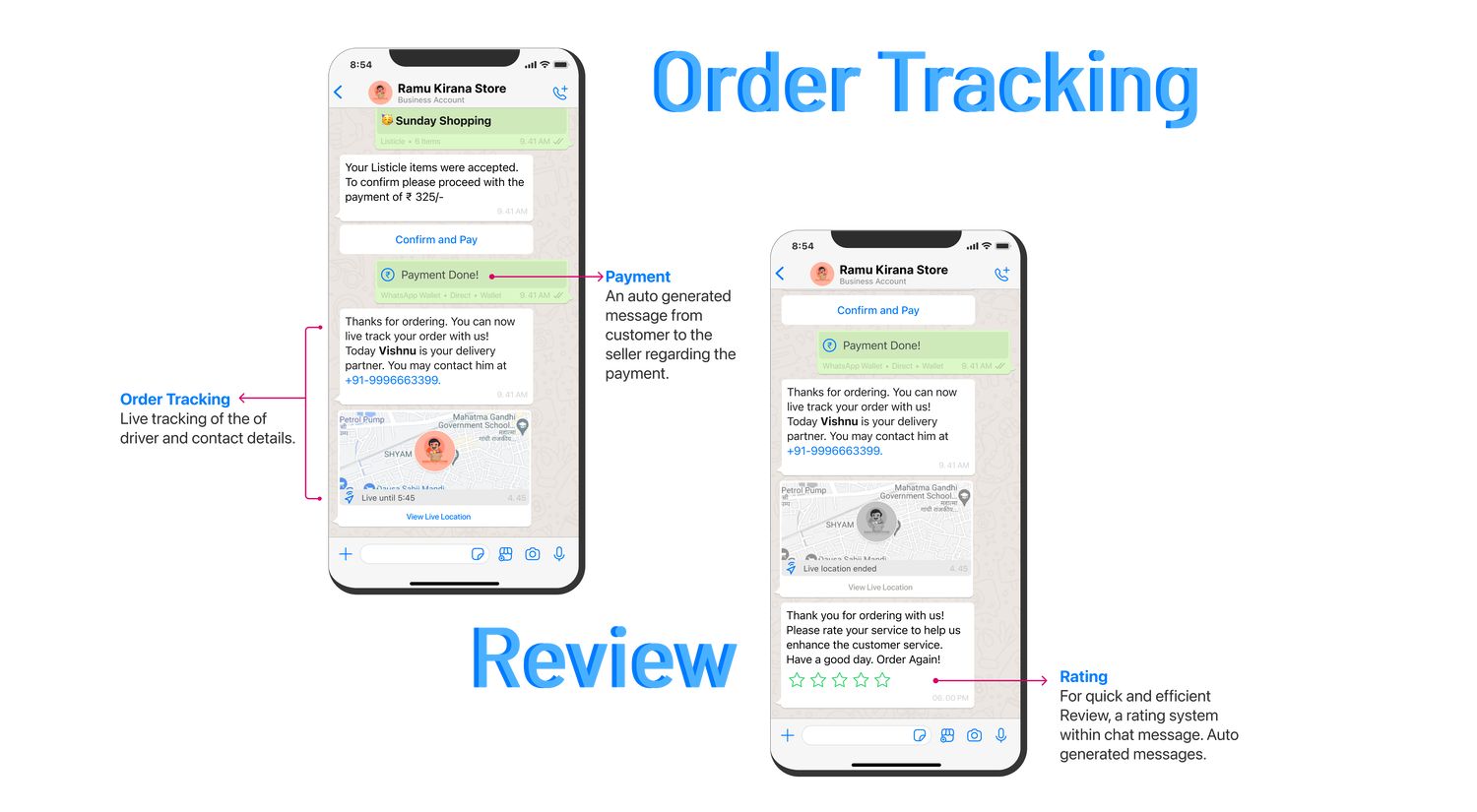 Chapter 5. Engineering Handoff/Components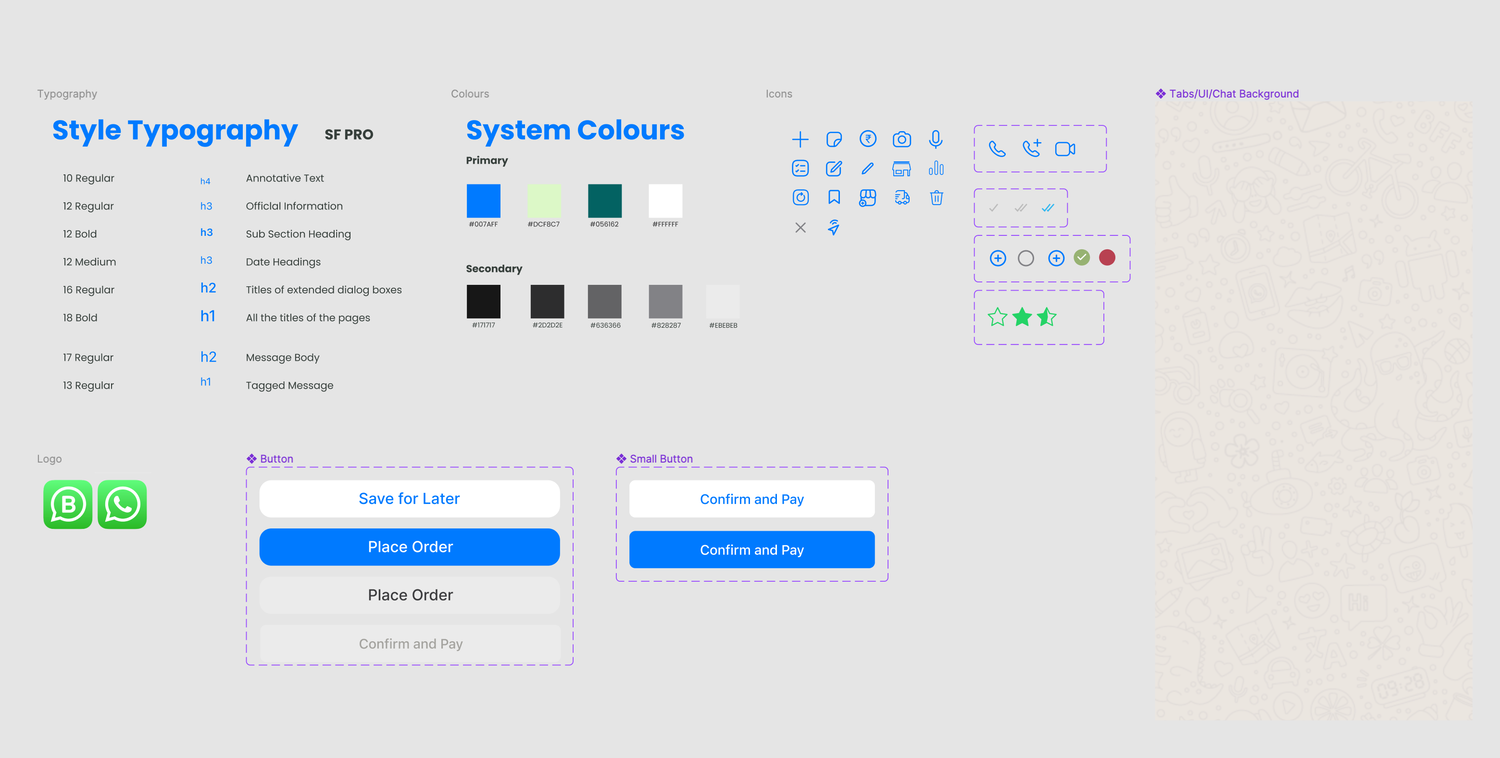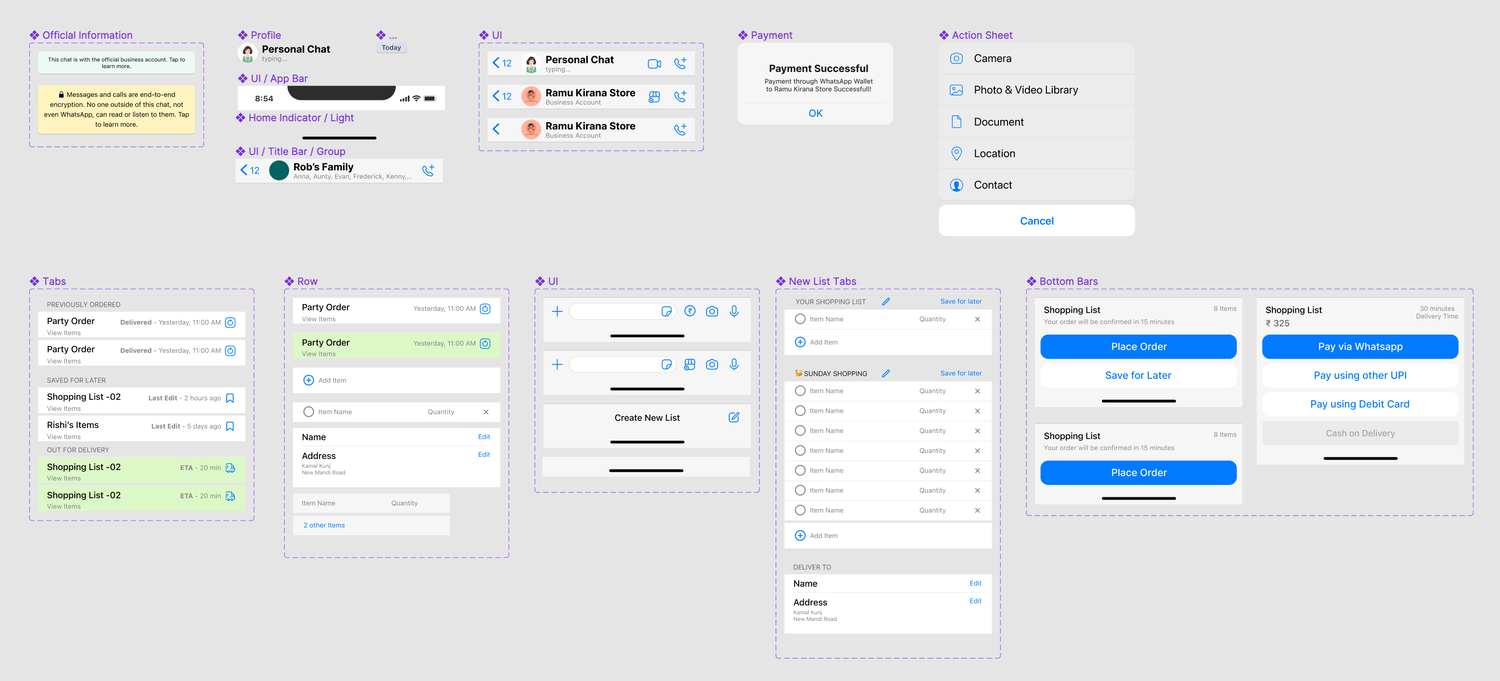 Chapter 6. Learnings
I really enjoyed working on adding on a feature to the existing app which most of us use on a daily basic. Also make the whole process of ordering items very easy and somewhat similar to how it's actually done in households, with pen and paper and the list is given out by someone to the seller and items are brought/ delivered.
Also, as I was constrained to the WhatsApp Ecosystem, exploring of design system of WhatsApp, learned about it's guidelines on iOS.
Discovering how the various features in WhatsApp are amalgamated to be used in with coherence with each other. Different sections of WhatsApp came together Payments, Location sharing, tracking within the app, calling etc.
Enjoyed the whole this so far!!
All Projects ⟶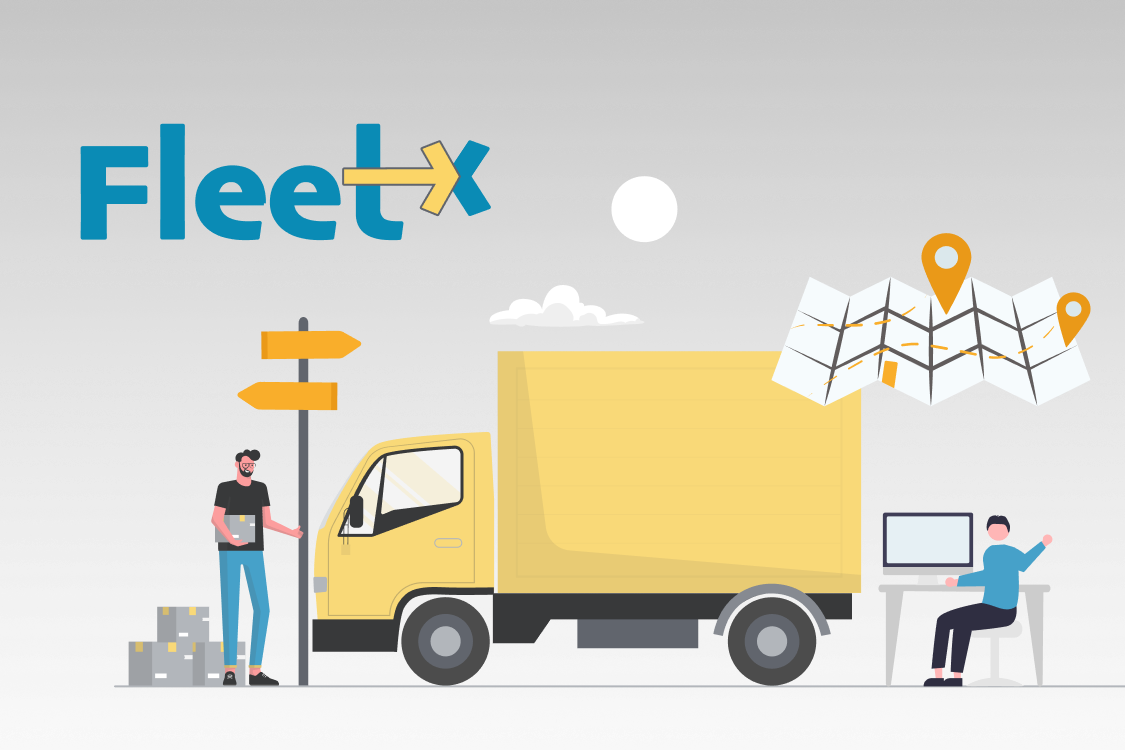 Leave Management ⟶