Problem Statement
Customers purchase flowers mostly on holidays and special occasions and are more likely to purchase flowers online compared to other generations. Millennials' attitudes and imagery of flowers as gifts are primarily positive, but they are still concerned with the price and longevity of floral products. An important means of cultivating millennial consumers' purchase likelihood is improving their experiences with floral products. Specifically, improving floral products' relevance, engagement and customisation/personalisation for millennial consumers.
To start with I decided to deep dive into the problem statement to allow me to understand the tactic behind it.
Discovering the Opportunity
E-commerce is a multi-billion dollar industry that is consistently developing as our innovation propels, thus the user.
Consumers are more ready to buy things that they in any case may be cynical to buy online. Although this is becoming helpful, the relationship with the retail store is lost, leaving the customer to adapt to a minimalistic way of buying things that they are new to. I have taken this as an opportunity to design an e-commerce platform for the florist to get the well-disposed store shopping experience into the advanced digital world for the user.
What's the problem?
Through deep analysis, I was able to identify the following problems: Users do not have time to go to the store to ask for flowers. People who usually ask for flowers by phone have always suffered from delays.
Sometimes some of the users have reported that to make a delivery they have to ask well in advance and sometimes they do not receive their requests.
Project Goals
Create a customised shopping experience for the users interested in buying floral bouquets online.
Educate users on basic information for each flower and bouquet type.
Make it convenient for the user to design the floral bouquet on the app.
To enable the user to schedule timely deliveries for customer satisfaction.
Chapter 1. Identify
How might we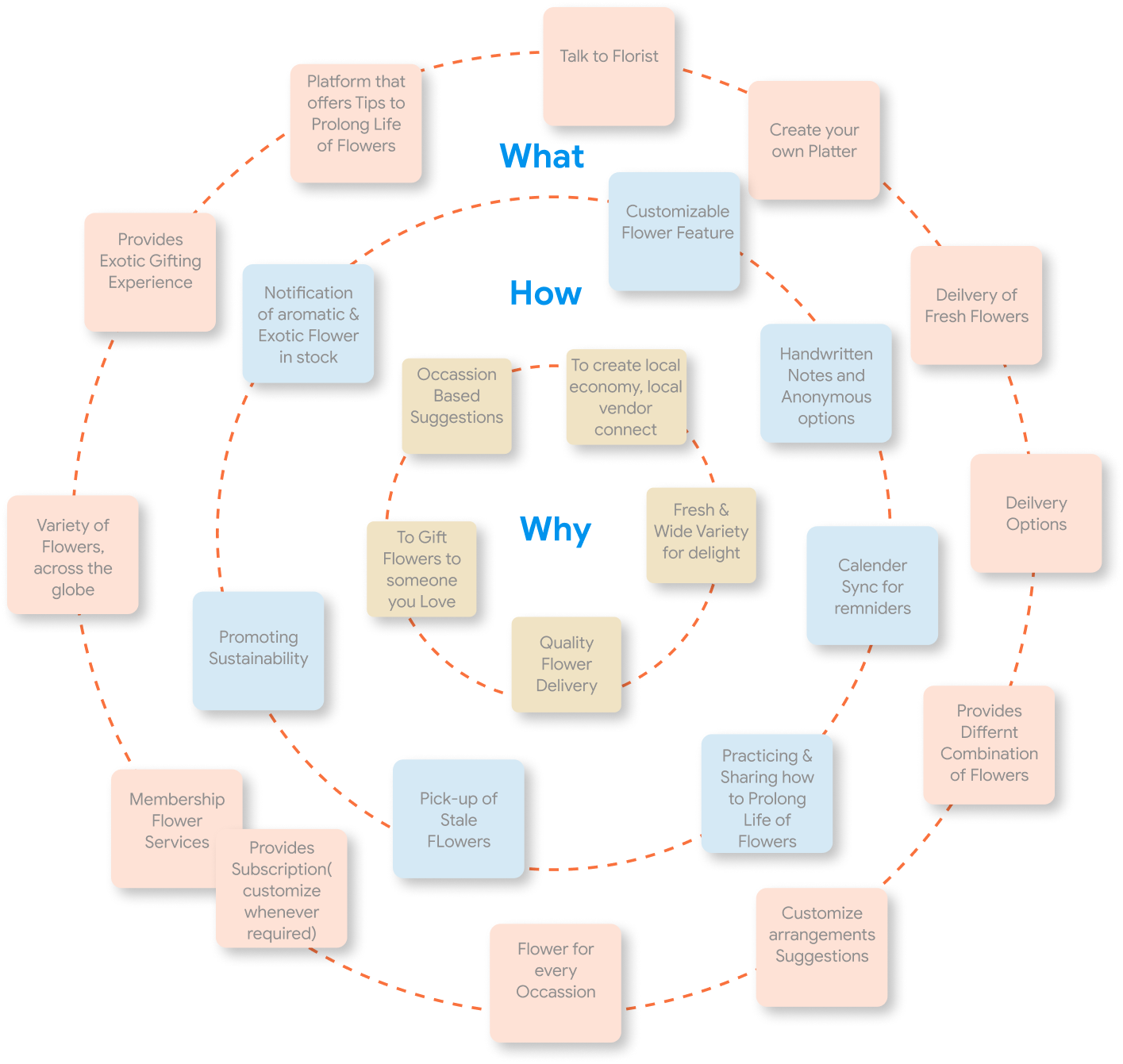 This helped me open up a brainstorming phase.  I focused on a few different ideas of filtering results, allowing users to navigate the pre-arranged options their way as defined in POV and HMW. I made a list of all possible features for each. From a filtered view to a detailed view, users can browse and find a selection based on their parameters.